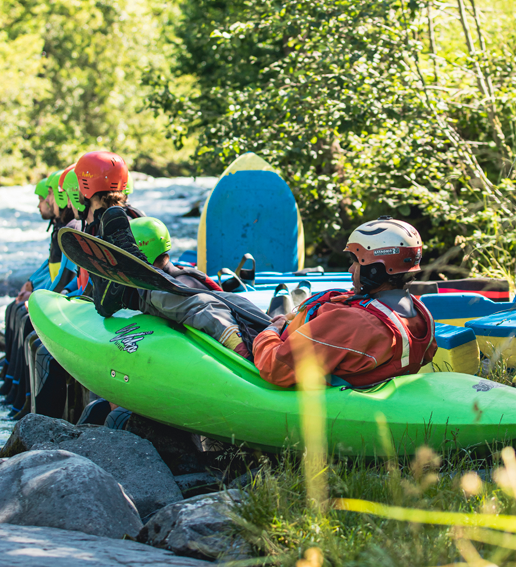 EssaOnia is a company with a human dimensions: on each of our trips, we share our passion with you while respecting a certain ethic: pleasure, quality, professionalism and respect are the founding dimensions of our company. We share these dimensions with you, our river guides and our environment so that you can enjoy a unique experience on each of our trips and discover the fabulous environment of the river!
"I love those who yearn for the impossible"
Goethe
safety and professionnalism are garanteed
We have selected a team of talented and passionate river guides to help you experience the river safely!
Jérôme
Jérôme
Jérôme is the veteran of the team. He has been involved on the river for 35 years and co-created EssaOnia in 2004. For a few years now, he has been involved in the training of future river guides, but would not give up his place on board his raft or kayak for anything in the world!
Adrien
Adrien
Adrien is a mainstay of EssaOnia, with over 14 seasons under his belt. Every summer, he leaves the Ariège and the Pyrenees for his summer pilgrimage to the Alps. A hedonist and a fine cook, he knows the river and its environment perfectly, and is the Uncle of the new generation of guides!
Titouan
Titouan
Titouan is starting his fifth season with EssaOnia. Very good kayaker and rafting guide, his enthusiasm will make your rafting trip an unforgettable experience! Once the season is over, he doesn't put his paddle away and goes exploring the world with his kayak.
Jean-Rémy
Jean-Rémy
Jean-Rémy has over 20 years experience on the river and joined the team in 2013; his jokes will keep you smiling throughout your rafting trip! And when he's not cycling around the region, he's on skis for his own pleasure or as part of his second job as a ski patroller in the 3 Valleys ski resort.
Pauline
Pauline
Pauline is the rookie of the team, but she has taken her place! Passionate, with always 15 thousand ideas in mind, she will transmit her passion with her very personal touch: to live an overnight rafting trip on the Isère river with her is an incredible experience! She then divides her time between France and Colorado in the United States for her other job, interior designer.
Thomas
Thomas
His real job is as a trainer at the CREPS of Vallon Pont d'Arc where he is responsible for the training of future river guides. But every summer, he comes to visit us to experience the atmosphere of the white water season that he enjoys and to keep one foot anchored in the reality of the profession.
Quality gear : We pay particular attention to the gear we provide by selecting the best brands of boats and whitewater apparels.
In addition to the standard equipment (PFD and helmet to CE standards, wetsuit long-john, long-sleeved jacket and neoprene boots), we provide additional equipment depending on the weather conditions (extra thermal layers, socks, splash-jackets, etc.). Every year, we keep up ourselves our equipment , to guarantee you an optimum level of comfort and safety.